I enjoy how as each season passes I have less and less enthusiasm to write in anything approximating a reasonable timeframe.
As seems to be a recurring theme, a fair chunk of shows in this season had interesting premises or ideas but then ended up kind of dissappointing. So consistently so that it's not really worth dividing up good/bad among the things I did watch.
So in (mostly) alphabetical order here's the anime I watched in Winter 2019:
Domestic no Kanajo– this show started off interesting. Gave a bit of a Scums Wish vibe with the teacher and student relations.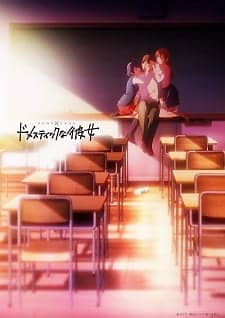 Also the unexpected sexual relations in episode 1 were quite an intriguing twist. But the show just didn't live up to those initial expectations. It particularly irked me that the boy kept calling the teacher 'Sensei' while flirting/hooking up and this didn't cause the woman to be constantly reminded about how she was a teacher fucking her student. And that was a huge breach of professional conduct. Was really implausible and inconsistent how well she accepted that and didn't seem to care about the obvious professional risks (and moral ones too I guess). Even just having the kid call her by her surname would be a massive improvement as it would mean they stopped whacking us in the face with it. Also the way they, inevitably, get busted is stupid. In on episode they "hide" by crouching down in a fuck off huge hallway at the school that is 80% windows outside. But that works out fine. Meanwhile they later fuck in a hotel room on the 10th storey of a building and somehow the school photographer takes a photo of a bonfire dance outside that somehow clearly catches them. 6/10
Doukyonin wa Hiza, Tokidoki, Atama no Ue– again this show started off pretty good.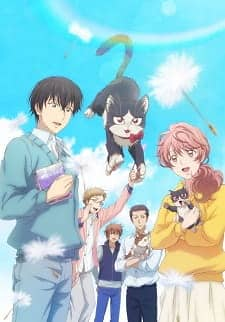 Despite being thoroughly over the overused trope of an MC being a shut in mangaka with no social skills (Barakamon did this best, stop trying to capture lightning in a bottle again) this show had the fantastic twist of dedicating half the episode to being from the perspective of a tsundere cat. Which the MC adopts. Hence his "roommate is a cat" and the show started off quite great. But Episode 3 was an early stumbling block where it had a random supernatural element related to the MCs dead parents spirits being chased around by the cat. Then as episodes progressed they clearly ran out of ideas of what could be said/done through the cats perspective so we got higher and higher proportions of each episode on the stupid MC. And the eclectic cast of tropes who he ran interacted with. Only interesting one was the pet store lady (and I guess her younger brother) but she was in like 3 or 4 episodes. Fun premise but you're probably better off watching Barakamon and Chi's Sweet Home. 6/10
Emiya-san Chi no Kyou no Gohan– am very late to the party on this.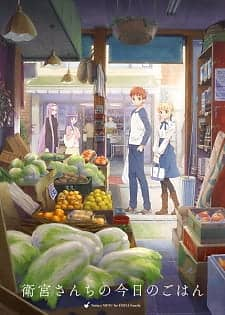 Was a monthly short by ufotbale with the Fate/Stay characters going on low key cooking adventures. Slow paced slice of life. I'm not much of a cook so the chunks of run time dedicated to explaining recipes were a bit much (I assume they were accurate recipes) but I guess it was nice seeing where these characters from a mid-2000s choose your own adventure porno have ended up. A good show to chuck on before going to bed because if you fall asleep you won't really miss anything. 5/10
Fate/Stay Heavens Feel II- Lost Butterfly– speaking of "choose your own adventure porno from the mid-2000s", I saw the second Heavens Feel movie in cinema a few weeks back. Further cementing Sakura as the best girl in my mind (although I expect if I rewatched UBW I'd prefer Rin).
The art and animation was fucking beautiful in this, with some absolutely gorgeous fight scenes between various Servants. Also some high tension scenes where characters confronted others- in particularly I liked Gilgamesh confronting Sakura in a dark alleyway at night time. Was less of a fan of the scene where Sakura and Shiro finally have sex. Two reasons- firstly the dialogue was the cringewothy garbage that… well… reminds you this was the third/secret route of a choose your own adventure porno written nearly decades ago. It was very bad. Equally bad was how much a of a cock tease the scene was- so often Sakura'a tits were nearly on screen but the nipples always managed ot just be out of shot or obscured. Fuck that. If you're keeping the fucking dialogue, at least show me the insane 'big tiddys' of this hot anime girl on the big screen. I want a canon image for what Sakura looks like topless. In beautiful ultra 4k HD or whatever resolution cinemas play. I'm honestly not sure how I feel about the movie. It did suffer a bit being the middle of a trilogy. Also I've become psychologically used to anime movies I see in cinema being fucking masterpieces (Your Name, Silent Voice, I Want to Eat Your Pancreas) or popular trash (DBZ movies, Yugioh Movies, that SAO movie). This movie was weirdly neither- it was towards the masterpiece end in terms of production quality and those fight scenes but it was still nowhere near the typical level of an anime movie that breaks into a western release. Will probably revisit it and the first one in a marathon before going to see the third one… if I remember. So uhh… 7/10?
Endro– I really dunno what I expected with this one.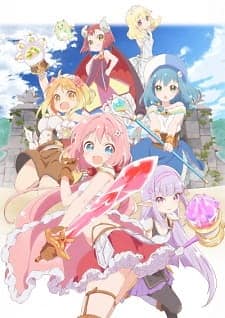 It gave me Yuru Camp vibes (the MC is basically the same person) in a fantasy setting. And I suppose that's what I got. But the characters were all pretty one dimensional, the Princess shit me off and the ultimate direction the plot went it was really unsatifying. I technically watched this until the end but I definitely watched the last bunch of episodes in a marathon while working on some other stuff at the same time (and given I don't speak Japanese, that shows how much I needed to pay attention to follow what was happening). I guess it's a fine show to pass the time. 6/10
Kaguya-sama wa Kokurasetai– this show was fantastic. The premise sounded like absolute garbage when I read it so it was a breath of fresh air that this turned out so fun. That occasional victory makes slogging through so many bad/disappointing shows worth it… although those rare victories are what keeps the optimism that makes me slog through so much garbage barely alive.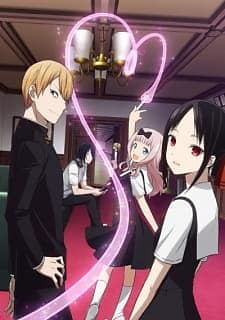 The dynamic between the three main characters was fantastic, with the occasional extra of the Treasurer being a great add on. One of my friends informs me that in the source material the Treasurer is more involved earlier on. But I think the well-crafted gag in early episodes of pictures/memories of activities having a fourth person blurred out that the other three are clearly forgetting about makes the tweak worthwhile. Towards the end of the series it did have a few burrs- like the stupid 'Kaguya becomes a child when she is ill' which was perhaps a step too far beyond suspension of disbelief. Also the final episode left me with a bit of a bland aftertaste as it seemed that after all the activities we'd seen, including the requisite big emotional arc in the final clump of episodes, the two love interest characters were somehow not in any different position than how things had begun. In fact none of the characters really developed or changed. My friend I mentioned earlier disagrees with that statement but I think he's confusing us learning more about the characters as stuff happened with the characters changing in response to that stuff happening. And I do acknowledge that in this sort of slice of life comedy show you typically don't get huge character development. But even half a step in… well… any direction would have been great. All that being said, still an overall fantastic show. 8/10
Kaze ga Tsuyoku Fuiteiru– this show may technically have been part of last season given it ran for a weird amount of 23 episodes. But it was fantastic. All sport anime are either fantastic emotional roller coasters or bland mediocrity and this definitely fell into the former category. The fact that it developed all ten of the runners; plus some supporting characters and rivals AND their various, changing relationships was so good.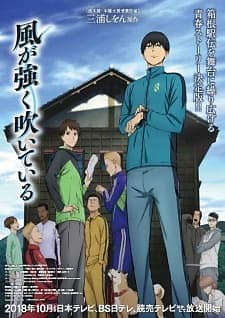 The art and animation were also pretty top notch… the CGI less so. But most impressive was how well it paced the overall story- the team forming arc (where each person was made to buy into the concept), the training/qualification arc (where everyone had to encounter and overcome a personal difficulty within the sport or external to the sport) and the final race itself (plus a small little post-race tease) were balanced perfectly. Nothing ran too long with padding or repeat concepts and nothing felt rushed. If anything, half an episode extra seeing the post-race stuff is all I'd want but ending where it did was perfect emotionally. And the emotional punch in that final stretch of the last leg where the two MCs have both an incredibly touching moment followed by a horrific heartbreak (unnoticed by anyone else) was… well… a roller coaster. This is up with Haikyuu as top 2 sports anime I've seen (sorry Kuroko!). Also it hit a bit of a personal note with the 'making people buy into a cause and helping them push past what they thought their limits were' stuff. Have done that in a few projects in the past and it is an immensely fun/satisfying thing to do. 9/10
Kemurikusa– this was a very weird one. I never got into Kemono Friends but I knew the creator has the capacity to do something weird and special with his work.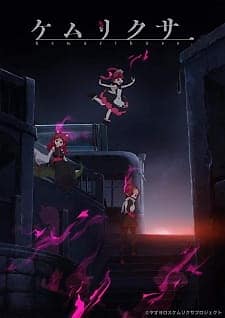 So I stuck with this even though I probably shouldn't. It was an interesting world and aside from Wakaba the characters all had their charm. Was quite surprised with what happened with various characters as the finale started to kick into gear. The rapid development of the lore towards the end was both welcome as it explained what was happening but also unsatisfying as it didn't really explain why the fuck what was happening was happening. The art style and animation were… interesting? Inconsistent? The best of times and the worst of times? I can only assume we'll get a soulless S2 in a year or two that does a weird semi-reboot and makes things more confusing in terms of the lore. 6/10
Tensei Shitara Slime Datta Ken– this started so well and then ended terribly. Actually I dunno if it started well. The premise seemed ideal for a 2 minute short, gag comedy anime rather than a serious action isekai. I figured the joke would wear off pretty soon and it did… hence they basically made the MC slime functionally a normal, if OP, human very quickly.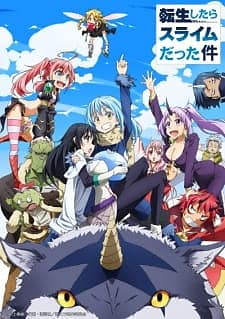 That being said the Orc Lord arc was pretty good. And the bit before it about building a village and going to the Dwarf Kingdom were fine. Nothing special… except for Dwarves being human sized and looking just like normal men. But after the Orc Lord things went off the rails. The concept of the next bit with the Demon Lords gaining interest and Milim kicking about and the Charybdis (dunno how it was spelt) but what should have been a 12-13 episode second arc was a rushed 4 episode arc. Letting is then get in a stupid arc where the OP MC goes and teaches at a school to he can raise some troubled orphans. And then we get a side-story from the perspective of a character who died… and then we get a recap for the final episode… what the fuck. There were apparently heaps of story tweaks and changes from the source material. From what has been explained to me by people who have read it, none of them were necessarily bad changes. They just streamlined content and cut out pointless busy work. Like in the orphan child arc the MC has to find a place. In the anime the servant of a business partner knows where it is. In the original it's some other mini-quest to find the information. Whatever. The issue was that in cutting out the pointless busywork they decided to rapidly accelerate the pace of interesting story content to squeeze in stupid story content. Very disappointing. 6/10
Tsurune– this show was fucking fantastic. I do archery myself and have dabbled in Kyudo so seeing the sport presented in such a compelling anime was fantastic.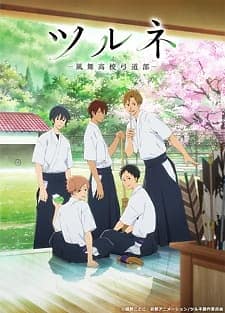 The only issue I have with this show was that we didn't see more of the girls- because I agree with the characters in the show that kyudo gear looks fucking hot. I really appreciated the depth to which the show focused on getting over the 'hurdle', especially when coming back from a failure, which is something I think is applicable to all sports (and probably most things people put effort into). Actually the more I think about this show the more uncertain as to whether Kaze ga Tsuyoku Fuiteiru or this make up the top 2 with Haikyuu. Maybe the silly plot point of the archery coach getting in a car accident on the day of the tournament knocks this one down into spot three. 9/10
Yakusoku no Neverland– somehow I knew about this… franchise? Concept?… about 12 months ago and even then the premise didn't super excite me.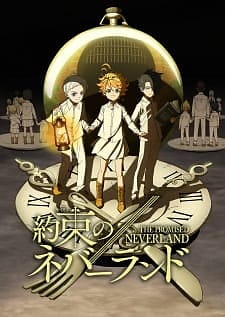 Dunno why. It was very good. I think maybe it reminds me too much of the mid-2000s TV series Prison Break which was pretty good to start with but then rapidly jumped the shark once they actually broke out of prison. Also children annoy the shit out of me so the setting having them all be under the age of 12 was not appealing. But I was proven wrong- the art and animation worked really well, the characters were compelling and the plot had some very unexpected twists. Particularly in the last few episodes when… well… the plan starts having changes in it. There was a character trait in Emma that popped up towards the end that I didn't quite buy and a fantastically unexpected detail about Ray. And Norman… wow… I was shocked how he played things out. Although I suspect the inevitable S2 will remove the emotional impact of his action. 8.5/10
Also here's some thoughts on shows I started watching in Winter 2019 but didn't finish for one reason or another:
Boogiepop wa Warawanai- this show had a weird number of episodes (~18 or so), a very confusing release schedule (due to the weird number of episodes) and a non-linear plot. And it's also releated to a show from the early-2000s. Unsure if it's a reboot or a sequel. Didn't care enough to look. I'm assured that it is very good those who watch it and are into this sort of thing- sort of occult, sort of sci-fi, things only make sense on a rewatch when you have all the info and can piece it together. Is on the list of "things to go back to during a boring anime season. One day. Maybe"
Egao no Daika- I dunno why I though this would be interesting. All this show demonstrated was why you don't put 12 year old children in charge of the military. Because they will do dumb shit and you will lose. Also it was (I assume) an accidental experiment in "trying to make both sides of the war emphathetic to show shades of grey even though one side is demonstrably an unprovoked aggressor doing evil shit to its citizens and the good guys". Unsurprisingly the experiment found that it's not possible to make a good storyline that way.
Mahou Shoujo Tokushusen- I think Madoka is fantastic for what it did with the Magical Girl Genre. I also think Magical Girl Raising Project is a fantastic extension on top of what Madoka laid. And given Madoka dealt with "Magical girls finding out shit is fucked" while Raising Project dealt with "Magical Girls surving through shit that is fucked" I hoped this show would delver on the third part of that concept with "Magical Girls dealing with PTSD having got theough the fucked shit". Unfortunately it dropped that concept pretty much strgaight away and become a poorly animated, boring artsyle generic magical girls fighting each other and other things show.
Mob Psycho 100 S2- I'm still working my way through this. S1 didn't grab me as much as it did everyone else but I enjoyed it enough. Same thing here. I'm assured that the second half is fantastic so I am currently watching it. And all signs are suggesting it could be fantastic. And if not it's solid for bingeing while doing other stuff
Dororo- dunno about this. Nothing about it sticks out as bad. Or good. But it's very different. The art and animation feel off but I can't tell if I like that or hate it. The biggest draw is the world and the concept for the main plot. The biggest turn off is that the interesting character is mute (at least for the episodes I saw) and most of the dialogue comes from a stupid shit of a child. Another one that I'm assured is worth watching but unless I'm desperate I suspect I won't get to it.
And some quickfire comments on some of the garbage that was put out by Japan in this three month period:
Dimension High School- interesting concept mixing j-drama and anime. The problem was that the show centred around solving Japanese word puzzles. With literal count down timers for the characters and audience to solve the puzzles. And if you aren't fluent in reading, writing and speaking Japanese you just spend several minutes looking at still images of word puzzles watching a clock tick down. Absolute waste of an interesting idea.
W'z- WHO THE FUCK ASKED FOR A SEQUEL TO HANDSHAKERS? AND WHO THE FUCK WAS DUMB ENOUGH TO GREENLIGHT AND FUND IT?! FUCK YOU.
Ueno-san wa Bukiyou- I love Science. I don't love weird attempted sexual harassment and assault in the name of science. Even having a girl doing it to a boy coz she's fond of him doesn't make it bearable
Mini Toji- a short based on… Katana no Toji(?) from several seasons back. I duno why I bothered watching it given I struggled to finish that show. I think it was a sequel spin off but who the fuck cares.
Rinshi!! Ekoda Chan- now this is a fantastic concept. Rather than the navel gazing garbage we get typically of "anime set in weeb industry X" (e.g. manga, gaming, anime itself…) this was a 3-5 minute anime short followed by a 20 minute interview with the staff (the director and VA on the episodes I saw) about the process of making anime. If this was an industry you were interested in working in, excellent viewing! Unfortunately that'd not me. Also in one of the first two eps (forget which) there was some really awkward viewing where the old, male director was correcting the young, female VA on what the character (a young, female) would feel on a topic. And the VA just had to sit there with the awkward "this old geezer is so wrong and misguided but if I say anything my career is fucked" smile on her face. A fantastic idea fucked in execution.
Manaria Friends- somehow a yuri show set in a fantasy school wasn't good. The opposite of a miracle.
Virtual-san wa Miteiru- like Pop Team Epic but worse. In this one the unconnected and not-funny sketches are all riffing of the personas of artificial Japanese YouTube… "characters". Like Hatune Miku but instead of bad to medicore songs, they are bad to bad YouTube personalities. With literally no story/plot or compent CG as far as I could tell.
Kouya no Kotobuki Hikotai- had pretty accurate WWII era dogfight style plane battles. Which meant they went too long. Also the CG and character models in the non-battle parts was terrible. Find a screencap of the girls standing around in the bar, look how big their hats and and judge the size of their heads to the rest of their bodies. It's fucked
Girly Air Force- a boy has to seduce and fuck an idiot and/or tsundere airplane to help fight off mysterious alien spaceships/planes. Or something. A plot point of the early episodes is this random refugee getting into (maybe sneaking into) a Japanese Self Defence Force base via his bicycle. The same base with the only line of defence against mysterious aliens has very poor security. Or something… again the details from 3 months ago are hazy. In any event, it was not good.
Grimms Notes- haha isn't is so funny that the male character transforms into a girl?! And they gallivant through a bunch of classic fairy tales while bantering with various character tropes. Comedy gold! Just read the Grimm Fairytales directly rather than this weird homage adaption.
Bermude Triangle- Colorful Pastrale- How is Cardfight Vanguard still popular enough to warrant this spin off anime about (I believe) one of the card sets? When was it ever popular enough to warrant that? In any event, obviously not popular enough to pay for any decent writer, artists or animators. Can't remember if the VAs were good. But 4 minutes of this was absolutely horrific to watch.
Pastel Memories- this is the self-aggrandising, navel gazing shit that is a cancer on anime/Japanese popculture. Is about a maid café having to save Japan by making it remember anime/manga that has been mysteriously forgotten. One of the girls looks like a character from Monogatari series. Which is the closest thing to a good ting I can so… although it just reminds you about a far, far better show. This combines the poor book based content of Grimm Notes with the shit storyline of "Plastic Memories". In the sense that Plastic Memories also had both a shit storyline and the word "Memories" in it's title. Good stuff
Watashi no Tenshi ga Maiorita!- Female. Paedophiles. Are. Still. Paedophiles. And. Are. Still. Fucked. Up. For. Fuck. Sakes. Japan. Don't. Encourage. This. Shit.
Ame-iro Cocoa- Side G- a centre swapped side story ('side' is literally in the same) about a coffee shop in what I assume is a franchise about coffee shops. All boys. Whatever. Slice of life with uninteresting characters. If you have no forward plot you need fantastic characters. Just having pretty characters isn't enough. But I guess if you've watched the 4-20 previous seasons in the franchise (no clue how many there are. Whatever the number is, it's too many) you'll probably like it.
Meji Tokyo Renka- a time travelling reverse harem. If you like historically inaccurate hot boys vaguely seducing a blank slate who probably has some sort of special powers (didn't watch more than half an episode); this is the one for you!